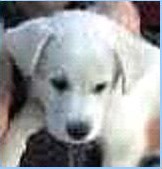 Just to let you know that Nanuq (polar bear in Inuktitut) is doing SO well. We are all totally enamoured with him. He is lovely, playful, sleeps through the night, not to mention sweet, and hugely loveable!
Thanks for all your help. ...
Nanuq continues to be the happy, loving, and fun centre of our family.
We love him to bits, and the cats don't mind him too much either!!
Sarah B.
Update February '11 …
Here is an updated photo of Nanuq whom we adopted from you in August 2008. He was officially named Butter when we adopted him, but I nixed that as I knew he would end up being called butt!