DNA My Dog - Your Dog's Unique DNA
Know the genetic background of your dog
Our simple cheek swab DNA test lets you learn every breed in your dog and gain insight into the unique genetic background of your dog including the history of their breed, personality traits, exercise levels, and so much more!
Every dog has its own unique DNA. "DNA My Dog" provides you with a kit and very simple instructions for swabbing the cheeks of your dog and collecting your dogís DNA samples. The test is easy, painless and takes under a minute.
After we receive your samples, they are processed and run through "DNA My Dog"ís laboratory partnerís extensive database of certified dog breeds. All DNA matches from the unique cheek cells of your dog are recorded and you get a perfect snapshot of every breed your dog has in his or her heritage. Itís that easy!
After we get your DNA results we divide them up for you based on DNA matching tests. We provide you with every level of every breed found in your dog.
Plus you get even more
"DNA My Dog" also provides you with a custom certificate with a photo of your dog stating their unique DNA composition. This one of a kind certificate is suitable for framing, and when you see it you will want to do just that! You get your results in less than 2 weeks.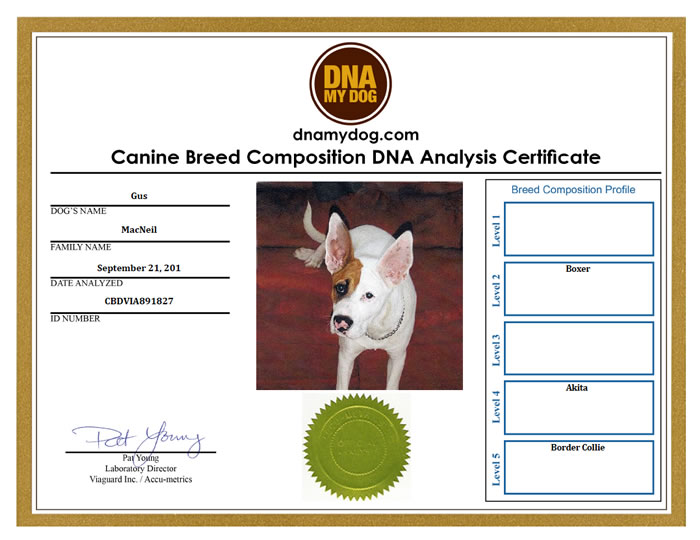 Your results also include a personalized analysis of every breed found in your dog. This handy reference has every level of all breeds found in your dogís DNA genetic profile PLUS it lists the unique personality traits and genetic health concerns associated with each breed.
Clients have told us time and time again how useful this information has been in the training and overall well being of their dog.
Your results will tell you about any diseases the breeds found in your dog are pre-disposed to so you can be pro-active about the health of your dog. This knowledge can be an invaluable tool for the well being of your dog.
The kit for the collection of DNA samples is available at the SPCA of Western Quebec at the cost of $10.00. After collecting samples, following the instructions, you will have to send those samples in containers included in the kit to the laboratory where the test will be processed and the results will be returned to you within two weeks.
The cost of testing is $62.56 (including $49.99 testing, shipping and 5% GST) payable to the lab when you send your sample. Information and registration form are included in the DNA test package.
Act today. Order your test and see the true heritage of your dog in about two weeks.